How To Manage Your Fear Of The Dentist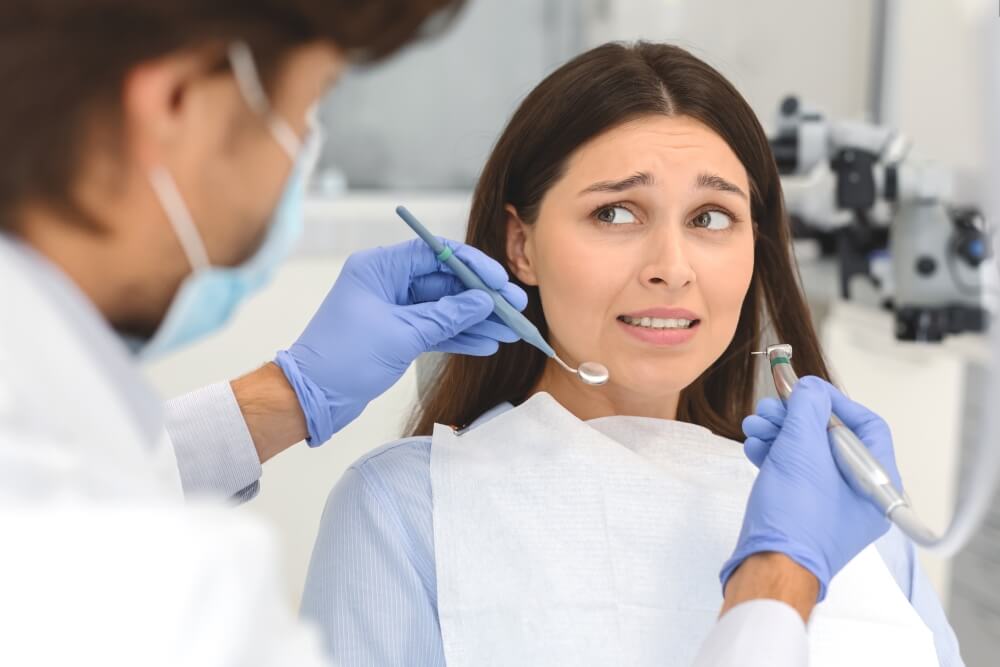 Multiple Methods To Choose From
At Andrew House Dental Practice, we understand that many patients may have a fear of the dentist. This is often due to a bad experience as a child or by inheriting fear from our parents. Dental fear can have a negative effect on our self confidence and can lead to pain as a result of dental neglect.
In order to help you combat your fear of the dentist, we have put together a few points below that you can follow in order to make your dental experience less stressful:
Choose Your Dentist Carefully
When possible, always try to go with a dentist that has been recommended by someone you trust. It also really helps to know that your dentist has experience in dealing with anxious patients, even though no two patients are the same. Some dentists are members of the Dental Phobia Society and have greater experience in this area.
Take Things Slowly
It is also a good idea to let your dentist know that you are a nervous patient when an appointment is made. This will give them the opportunity to ensure that plenty of time is allowed and that you don't feel rushed. In addition to this, it is likely best that treatment is avoided during your first visit unless you are in pain. This way you can ease into the dental process rather than having to deal with everything at once.
Be Honest
It's always best to tell your dentist as much about your fears as possible. This is because the more information that they have, the more they will be able to tailor the treatment to suit your needs.
Consider Sedation
Some patients just cannot overcome their fear of the dentist but are still in need of treatment. One possible way around this is sedation. Sedation works by administering a sedative drug through a vein and very quickly you will start to feel calm and relaxed.
You will not not remember the treatment or how long you have been in the chair and the recovery time is very fast. As a result you will be able to leave the practice minutes after the treatment has finished so it is not a long procedure at all.
Someone will need to accompany you home and keep an eye on you for a little while afterwards as you may feel a little sleepy. But after a good night's sleep it will be like it never happened.
Keep Going
Once you make your first visit to the dentist ensure that you keep it up. Leaving long gaps between appointments can cause the dental fear to creep back in. So, make sure that you book regular check-up appointments in order to manage your dental anxiety.
Nervous Patient Testimonial
It's all well and good for us to claim that these methods work in reducing dental fear but wouldn't it be better to hear from a nervous patient that we have helped?
Please continue reading to see in Linda's words how we at Andrew House Dental Practice have helped to manage her fear of the dentist:
"I first met Iram five years ago when I was new to the area and quite fragile after a messy divorce. I sat in her chair asking for help with my teeth and started to cry but she handed me a tissue and said let's talk about a plan. I am very nervous about dentists due to a bad experience a while ago but she was very patient and understanding. She asked what I would like her to do and I just said make me smile again. The treatment was long but she explained everything very well and answered all the questions that I had.
She allowed me time to think about the treatment and always reassured me if I looked worried or nervous. The most wonderful thing is that I now smile and look forward to my check-ups. I would recommend her to anyone who is nervous about the dentist.
Thank you Iram"
Contact Us
At Andrew House Dental Practice, Dr Iram Sheikh is a member of the Dental Phobia Society and has a vast amount of experience in treating anxious patients. She is calm, gentle and kind and will talk you through your treatment step by step. Our highly experienced team are also able to offer sedation in house so you can rest assured that you are in the best possible hands.
If you feel that we at Andrew House Dental Practice could be of service to you then please do contact us today. We look forward to hearing from and hopefully being of service to you.